Actually, the self proclaimed general Miguna Miguna alleged late this week that Raila had been flown out of the country which sparked debate.
More controversy arose when Winnie Odinga posted a coded sad message on her social media page which caused mixed reactions amongst Kenyans.
According to a report by the Standard media report on the 25th of July, Raila's brother Oburu Odinga remarked that Raila is in good health and doing various exercises at Watamu.
"ODM leader Raila Odinga is working out in a secret place in Malindi after returning back in the country two weeks ago following minor surgery in a Dubai health facility," Standard media digital said.
"After a spine vertebral surgery a patient is not even allowed to lift a weight above 10kgs or bend conventionally, so this pic is fake or if it's true then the surgery involved a different part of the body. Meaning @MigunaMiguna was right, He had brain surgery and not spinal!" Merly Asserted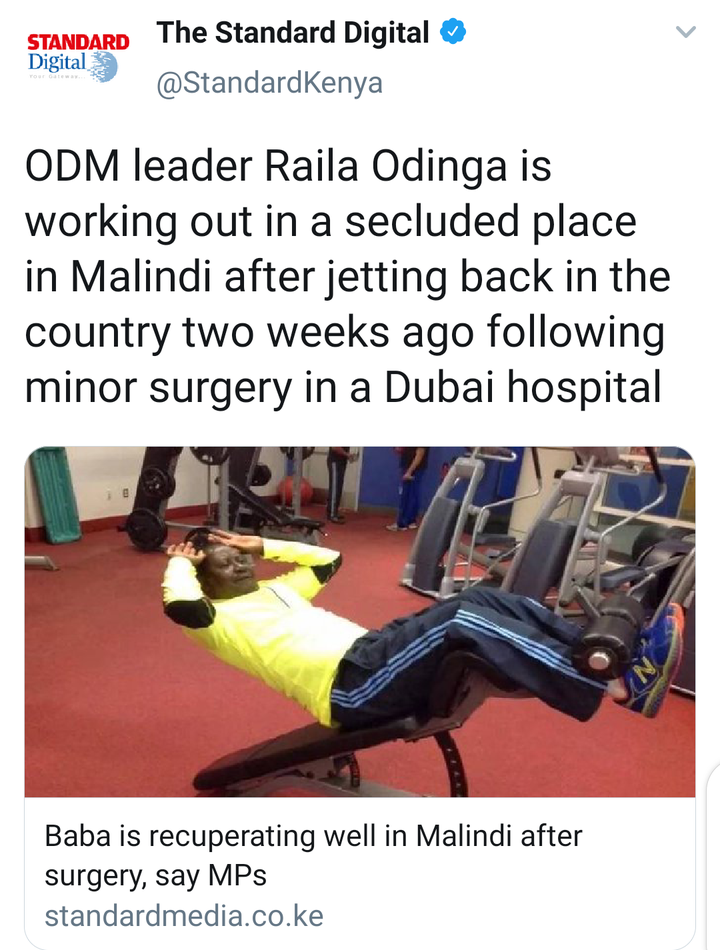 "So what if he is sick. How does it help your life, hustle or family? Just wondering. We will all die. So there is no problem whether his health is bad or not. Some are tweeting with flu, malaria, COvid, but Raila's is more important. How did we get here?"